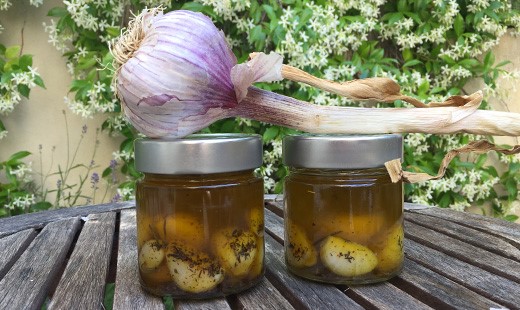 It's new garlic season!
There is nothing better than fresh garlic ... It is used in all dishes, summer salad and even fried in the oven.
In salads, it is much better raw than cooked!
We wanted to be able to enjoy it for a long time to come; we therefore had the idea of preserving it in olive oil; it will only get better in a few months!
Here is an idea that will allow you to keep fresh garlic while recycling your Sur le Sentier des Shepherds jars.
- 4 heads of fresh garlic
- White vinegar
- Olive oil
- Thyme
- Oregano
- Rosemary
- Espelette pepper
1- Boil water in a saucepan and peel the garlic cloves.
2- Blanch the garlic cloves twice, changing the water in between.
3- Put them back in the empty saucepan and cover them with white vinegar.
4- Bring to a boil and drain directly
5- Place the garlic cloves in a sterilized jar. Add the aromatics and Espelette pepper.
6- Heat the olive oil (without bringing to a boil) and pour into the jar.
7- Close the jar and turn immediately to create an air vacuum while the jar cools.
8- Once cooled, turn the jar upside down and store it in a cupboard.
You have to wait several weeks before tasting (at least 4 weeks).
The wait is worth it, it will be excellent!