Sardines: A small fish good for the body and the mind! We tell you all about its benefits.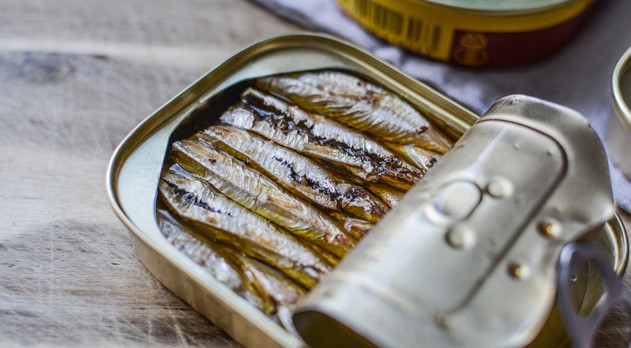 The sardine is a small fish good for the body and for the spirit! It is also an ally of the wallet. Sardines contain a multitude of vitamins and minerals: a can of sardines contains the equivalent of 35% of the recommended daily intake of calcium, 15% of the intake of iron, 10% of potassium and 45% of phosphorus! Canned or grilled à la plancha, sardines are also rich in protein. It contains between 24 and 30g per 100g, but proteins are essential for maintaining muscle mass.
Sardines are good for the heart!
Sardines preserve cardiovascular health. It is a great source of essential omega-3 fatty acids, which are known to help lower blood pressure. Sardines are, along with salmon, the fish that bring the most. Only 100g of sardines provides 1g of omega-3, or 70% of the recommended daily intake! Thanks to its content of omega 3 and vitamin B12, sardines prevent the risk of cardiovascular disease.
With 3mg of iron per 100g, sardines have nothing to envy to meat! She brings as much as the rib eye or the rib steak. Iron is essential for the formation of red blood cells, globules of which about a quarter of women are deficient.
It is above all a question of taste and season. For a canned sardine preserved in olive oil or a grilled sardine à la plancha, its nutritional benefits are almost equivalent.
Fresh: its scales and eyes must be shiny, the sardine must be firm. The small sardines are grilled, the larger ones can be served in fillets.
Canned: Notice to gourmets! There is nothing better than the vintage sardines in extra virgin olive oil.
Canned sardines are kept in olive oil so that it permeates the pulp and makes the sardines tender. Several recipes exist to vary the pleasures: Sardines with lemon, butter and Guérande salt, tomato ...
Good to know: Sardines get better over time! The more time passes, the more it tastes and melts in the mouth. Do you think you regularly return the box).
Come and discover our 6 recipes for sardines in olive oil here:
Nutritional facts ​​of sardines in extra virgin olive oil:
Energy: 1490kJ / 360kcal
Fat: 31,6g
Of which saturated fatty acids: 4,9g
Carbohydrates: < 0,5g
Of which sugars: < 0,5g
Proteins: 18,7g
Salt: 1g